Barrier Foil Ziplock Bags
Introduction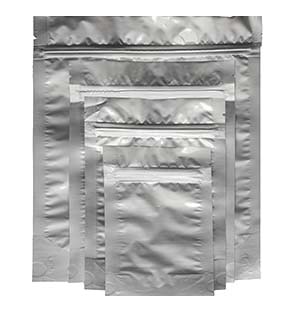 Micro-Tec ziplock barrier foil bags are ideal for storing and protecting samples. Especially light and moisture sensitive samples. They are re-sealable with the ziplock seal and can be heat-sealed above the ziplock for permanent storage. Tear notches are provided for easy removal of the permanent seal. The bags are constructed as pouches with a wider bottom. The Micro-Tec ziplock barrier foil bags protect samples against:
moisture
light (UV)
oxygen
dust
general environmental influences
The barrier foil thickness is 79µm with a laminate construction of 12µm PET, 7µm Aluminium foil and 60µm PE. The laminate construction makes these barrier foil bags though and virtually impermeable to moisture. They are available in 5 sizes from 100 -1000ml in packages of 25.
Specifications of barrier foil material:
Construction

Laminate PET / Al / PE

Foil thickness:   Total
PET
Aluminium foil
PE
79 µm
12 µm
7 µm
60 µm
Weight
98 g/m2
Oxygen permeability (23°C, 0% relative humidity)
0.1 CC / m2 / 24h
Water vapour permeability (33,7°C, 90% relative humidity)
0.01 g / m2 / 24h
Welding temperature
165 °C
Resistance of side welds
8.55 kg/15mm
Resistance of bottom weld
9.3 kg/15mm
Size tolerance
± 3 mm
Foil thickness tolerance
± 7%
Products
Showing the single result